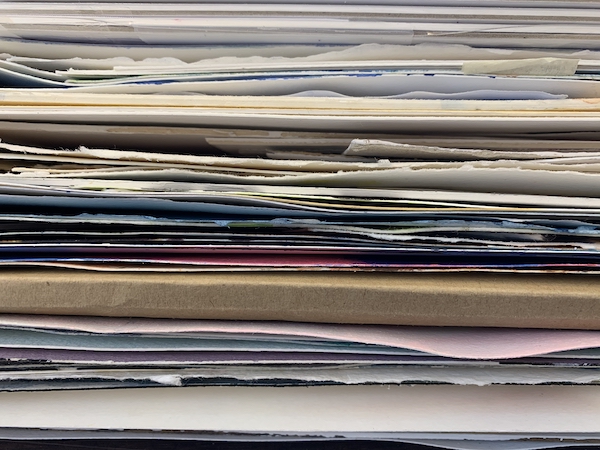 How to re-use failed paintings
Have you ever wondered how to re-use failed paintings? (I'm talking specifically about work on paper in this post). See that photograph of 62 failed paintings at the top of this post? That's not a stock picture. That huge pile of paper had been sitting on the floor of my studio for months. There were also 11 sheets of pure mark-making exercises, 8 sheets of prepared paper, 4 small paintings, 4 ink experiments, and 4 life drawings on watercolour paper. What a tower of paper! 93 sheets to be precise.
For those who are cost-conscious, this image may make your eyes water. Good quality watercolour paper does not come cheap. The costs mount up slowly over time as we consume our materials, so are often not noticed. Mostly, it's well worth it for the sheer enjoyment of painting.
But even if the cost isn't an issue for us, from an environmental perspective, there's good reason to avoid creating unwanted waste. Sorting through this mountain of papers made me think of how to re-use failed paintings. There are ways of making sure you get the most out of all your materials.
A few ideas on how to re-use failed paintings
On the first pass, sort the sheets into piles:
What can be pulled back or completed?
I always have work that isn't quite done yet. Mostly it's there but for some reason, I haven't made the final marks. Perhaps I don't know what those final lines or brushstrokes should be. I might be waiting for certainty. There's always the danger that these paintings don't get completed and become failed paintings just through neglect or apathy.
If you can complete them, just do it and put them in the 'done' browser ready for mounting or framing
If they are still in the 'waiting for final inspiration' pile, see if you can place them where you will see them frequently. This is a good way of letting your subconscious work out what each painting needs. It takes patience, but it does eventually work.
Which ones are irredeemable?
Sometimes my experiments are just not worth keeping. Or a painting I had high hopes for becomes completely overworked. Sometimes, the paper surface gets scuffed or damaged in the process of applying too many layers of paint. So what to do with these little beauties? Here are some ideas on how to re-use failed paintings that fall into this group:
Cut the paper down to smaller, usable sheets if there is enough white space remaining
Crop, crop, crop to make smaller paintings from the sections you love in an otherwise unexciting painting. Take care to leave enough space for mounting. A number of successful Running With Brushes paintings have been created this way.
Use interesting passages for collage. I love the randomness of torn paper edges.
Use the reverse of the sheet for experiments and exercises. No inch of white paper goes to waste!
And when none of these options is possible, you can always resurface the paper with gesso to create an interesting, less absorbent surface for watercolour, or for mixed media paintings. This option has the advantage of creating a robust surface which will take a fair amount of working quite successfully.
Why re-use failed paintings?
Getting rid of the clutter of old ideas and images leaves plenty of space for the new work. Having a good clear out is a motivator to create.
Every Sunday I send out a collection of creative thoughts in my Art Booster email. If you've enjoyed this post, why not sign up to get more motivating snippets in your inbox.
Tags In