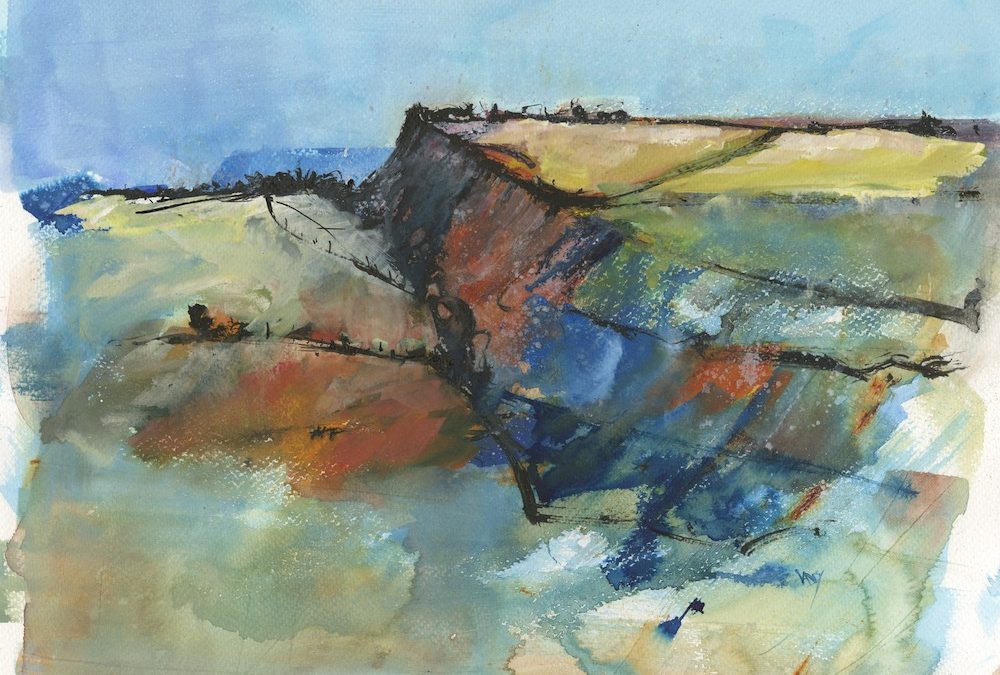 Art Societies – are they for you?
Art Societies in various forms have been a significant part of my life for more than half my time as an artist. Last Sunday, I stepped down from the committee of the Society of East Anglian Watercolourists after five years of continuous voluntary service to the society. I have the new luxury of more time to dedicate to the creation of artwork and the development of new ideas. This feels so indulgent at the moment. I am luxuriating in the idea of time to read, reflect and paint. This feels like a good time to share my thoughts on art societies in general and map out for you some of my thoughts on the pros and cons of joining one:
The pros of art societies
Companionship and conversation are two significant benefits of joining an art society. Creating art is generally a solitary activity. Sometimes that means you have the quiet space to organise your thoughts. But there are times when we all need a bit of input from others. I have found that often the artist I have met at art societies have ended up as good friends. We can have conversations about new techniques, art styles we admire, materials, and resources we recommend. And sometimes, valuable honest feedback about our work.
Aside from the knowledge we get from other artists, art societies often put out newsletters which are rich sources of information. They may also host talks and demonstrations from other artists who can share ideas and techniques they have mastered.
Exhibiting is a key part of many art society activities. If well-curated and hung, a group exhibition has the benefits of providing visitors with a variety of styles and themes to view. This usually makes for a diverse and interesting exhibition. From the artists' perspective, the shared costs mean exhibiting work to the public is easily affordable, and a wider group of viewers will be seeing the work because all participating artists, as well as the society itself, will be spreading the word about the event.
The cons of membership
There are always a few potential disadvantages to consider. For some artists, the cost of membership fees could be a concern. In many cases there could actually be a net cost saving. Society events and exhibitions can outweigh the membership costs. However, this is something to bear in mind when deciding whether art society membership is for you.
Art societies aim to keep costs low by asking members to do some work. This means there may be a time commitment involved. Most societies will expect some stewarding time from each artist at the exhibitions being staged. If you want to make a greater contribution, you may have the time involved in meetings and administrative work. However, I will say that in my experience, this is well worth the time investment as you make better contacts when you put in the time.
Sadly, sometimes there are personal conflicts. We all have strong ideas about how we want things done. In any reasonable size group, there will inevitably be those who disagree with some aspects. As long as everyone bears in mind that the ultimate goal is to support the members of the society, and to share knowledge and (hopefully) inspiration with Friends of the society, then differing views can be overcome.
Choosing art societies
Make sure the art society you wish to join will support your development as an artist:

Does it cater for your medium of work?
If the society only accepts membership by selection, what is the entry process? Are you at an appropriate stage of your art career for this society?
What knowledge resources are available through the society, either formally or informally?

What geographical areas are covered by the society? If it is local there will be plenty of opportunities for socialising. If the area is larger, it will be harder to really get to know other members. Ask yourself how much personal contact with other members you want.
What are the terms and conditions for exhibiting? And how often do exhibitions take place? This is particularly important if you are hoping that membership of the society will help you sell more paintings.
If membership is not for you
If you decide that art society membership is not for you, there are other resources available to artists:
Workshops are a great way of developing skills and meeting other artists who work in the same medium.
Open calls, group exhibitions, and online galleries are all opportunities for artwork sales.
Social media provide access to many of these opportunities and more.
I am still a member of the Society of East Anglian Watercolourists and have, in the past been a member of a local art society. The newsletters I receive as a Friend of the Royal Institute of Painters in Water Colours inspire and educate me. And I enjoy visiting Bankside Gallery for the Royal Watercolour Society exhibitions. Art societies have played a significant role in my development as an artist. I hope, in return, I have played a part in the development of the SEAW, and my subscription fee, visits to exhibitions, or submission of work for exhibitions have made a smaller contribution to the other art societies.
(Image: Tregardock Cliffs. Selected for the SEAW Exhibition 2019)