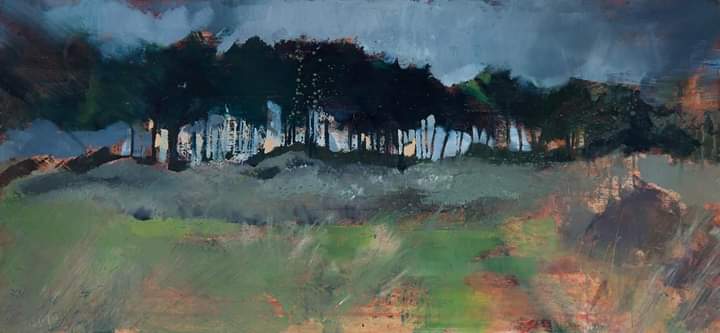 Aine Divine Painting Landscapes
One of the most requested tutors and subjects for future workshops on our feedback form is Aine Divine painting landscapes. I am thrilled that she will be joining us in September 2021 to tutor a 2-day landscape workshop.
In February 2020, a group of watercolour artists joined us to paint portraits: Aine's best-known subject. Many artists are aware of her success in reaching the finals of Sky Arts Portrait Artist of the Year, and her series of articles in Artist and Illustrator magazine.
The enthusiasm and energy in this workshop were remarkable. We asked Aine to return and teach again in October. This is the first time we have invited the same artist back to teach a second workshop in the same year. Mixed Media Flowers was the theme of the October two-day session: a wonderfully uplifting topic for this challenging year. We were fortunate to have booked this workshop for the period when we could safely teach face-to-face sessions. It is hard to overstate how much this session did to raise our spirits. Everyone left with renewed motivation to paint, and the inspiration to be more adventurous with colour and texture.
I care deeply about the quality of tuition and overall experience for artists attending the workshops I host. My workshop feedback forms ask artists to let me know what they enjoyed about the workshop, and what could be improved.
My favourite comment about Aine flower painting workshop came from Lesley Farbridge. Lesley articulated the experience with a single elegant sentence:
"Stretching my limits with kindness, understanding and skilful tuition"
Aine Divine painting landscapes in 2021
Now that you've read Lesley's feedback, it won't come as any surprise that one of the top requests on this year's feedback forms was for the opportunity to join Aine Divine painting landscapes.
Artists who want to join her workshop will now be able to book a place on her workshop in September.
In the meantime, here are two videos of Aine Divine painting landscapes to inspire you over the New Year.
Thank you for your support through 2020.
Wishing you a happy, safe and creative 2021.