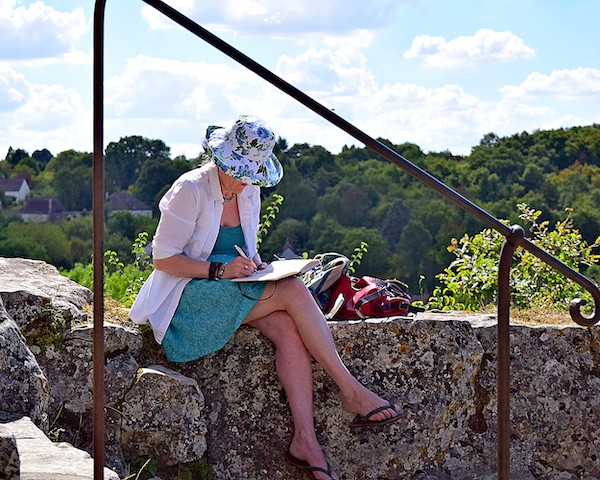 Best painting kit for travel
I always take a painting kit with me when I travel. Even on a short trip, I try to paint at least a couple of times a week. The challenge is always what to take? Here's the problem. When I pack my painting kit I always think I need just a few more art materials with me. You know, just in case. You never know when you're really going to need that one particular item.
Have at least 2 sizes of painting kit: one that will fit into a backpack, and one smaller kit that fits into a small bag for plein air sketching
Keep it compact. Only pack what you really need. A few materials go a long way.
Paper and brushes:
Take a small sketchbook along. Alternatively, cut a collection of loose sheets in different papers. I recommend approximately A4 and some A5 sizes. Foam board can easily be cut to size slightly larger than the sheets of paper. These protect the pages and also can be used as supports for painting plein air.
I generally take a few travel brushes. They have the advantage of being very compact. The wet brushes can be packed into the tube handles to take home. Don't forget to unpack and wash the brushes when you get home and then allow them to air dry before packing them away.
I always pack a few of my favourite sticks into my painting kit for travel. They are wonderful for mark making in watercolour and ink.
Painting kit for travel: lines and washes
This is where it is so easy to go over the top. I always want to take more colour than I should. It is easier to take a prefilled palette of paints, but tube paints are much smoother and frankly, nicer to paint with. The best of both can be achieved by using a Daniel Smith watercolour hand-poured half pan palette. Empty pans can be filled from your tubes of favourite colours. You could construct your perfect travel palette. That's got you sorted for washes.
A small bottle of ink is a good addition as long as you can get one with a good lid seal. There's nothing worse than an ink pool in your painting kit.
Your line-making kit elements are pencils, charcoal pencils, Posca pens or ink pens. A small selection of these are a good addition to your painting kit for travel. (Note: 'Small' selection. Don't be tempted to fill your bag with pencils)
And don't forget
Those items that so often get forgotten. These are my d'oh! moments – when I realise I've left these at home.
water bottle for transporting water
water container for painting
kitchen roll (you don't need the whole roll)
bulldog clips are so very useful for keeping your paper together and stopping it blowing around in the breeze while you are painting. The loops can double up as brush holders when you're working
Plastic bags – a large bag is handy for sitting on if you're painting outdoors. It can also be used to take rubbish home with you a the end of the day. A small bag is handy for keeping any wet implements away from your paintings on the way home.
Finally, if you're going painting plein air, don't forget to take something to eat and drink. And depending on the weather, you'll be glad you packed your sunscreen or your hand warmers. (Thank you, Penny Newman, for the reminder).