How Painting Outdoors can improve your life
It took me a long time to get comfortable with painting outdoors. The whole idea seemed just far too challenging.
First, there was the hassle of working out what I needed to take with me. Then there was the fear of people watching me – I thought I might feel so self-conscious, especially if I messed up the painting. I feared that having people watching would almost guarantee I would mess up the painting. And then, of course, the basics of where to go and what to paint. It was a mass of indecisions.
I had a few runs at it and got overwhelmed by it all. I was never happy with the paintings I did when I wasn't in my studio. But I persevered, and by millimetres, painting outdoors got a bit easier.
For so many reasons, this has been a tough year for everyone. Even if we think we are doing ok, there's a subconscious toll of living with constant uncertainty. Frequently, I have found myself feeling overwhelmed. It takes me longer to get things done, and there are days when my day job involves stressful interactions. Under normal circumstances, we all have ways of dealing with the stresses of our lives. But sometimes, things get out of perspective and we forget to care for ourselves as much as we should.
Last week was challenging for me. I was balancing some challenging work issues as well as getting from Cambridge to Cardiff to help a son and his fiancee move into his first house. Owning your first home is a giant leap, and we all wanted to make it as smooth a move as possible. With Covid-19 cases on the rise again and parts of Wales going back into lockdown, our plans looked a bit precarious. We waited until the day of the move to do the cross country dash and then raced to get their worldly good relocated.
Feeling the need to paint outdoors
Finally, on the fifth day, we drove an hour out of Cardiff to an area which hasn't been put into lockdown and went for a long walk up The Sugar Loaf mountain. This is no stroll in the park. It's a 2-hour walk with some strenuous slopes to navigate – but it is worth every step. The views over Abergavenny are glorious. If you go mid-week and not in high season, you have the mountain almost to yourselves. We encountered fewer than a dozen other people in the entire afternoon. By the time I got to the top, I felt as if all the overwhelming stuff I'd been wrestling with was back in perspective again. It was quite literally pausing and taking a deep breath.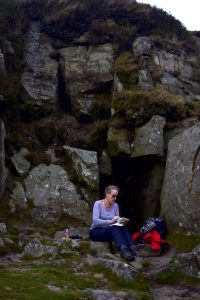 Just below the peak, we found a place to pause so I could paint.
I've learned over my years working on painting outdoors that I should not try to paint a finished piece when I'm in a wind, partway up a mountain. I just do a colour study or capture the essence. Often it's a quick sketch that takes no more than 15 minutes. But that creative moment gives me so much:
I am absorbed in what's happening on the page and what I see in front of me. The worries and stresses of my daily life disappear for that brief time. You'd think that it would all come flooding back as soon as I finish painting, but that short interlude of self-care seems to get so much back into perspective. My stress levels reduce and that changes the way I deal with things when I get back from my outdoor time.
There are many artistic benefits to painting outdoors, but this is one that we don't often talk about. Getting out into the open with a small painting kit and letting yourself get lost in the moment is one of the best stress reducers I can find. I thoroughly recommend it. If you want to see the view from my painting perch and see the resulting small colour study, have a look at this video clip I made while I was there.
How to go painting outdoors
You don't have to climb a mountain to get the same sort of benefits I've described. Here are a few thoughts:
Go somewhere you love – mountains, sea, fields, gardens. It doesn't really matter which as long as it inspires you
It doesn't have to be far from home – keep it simple and look for places in your immediate vicinity
Paint aspects that appeal to you. If you love buildings, find an old church, or view of houses from across a field or a park. If you love trees, head for a local woodland or even a group of trees in your neighbourhood
Treat yourself to a full day outdoors if you can get out further afield once in a while. This is your gift to the artist in you
If you're going somewhere that requires a reasonable distance on foot, invest in a good backpack. It may cost a bit but the comfort when walking and carrying your painting gear is well worth it
Resist the temptation to take every item of painting kit you possess. Go light. You can do a lot with very little
Even if you're in lockdown, hopefully, you should be able to find somewhere close by to paint outdoors. In fact, if your area goes into any sort of lockdown, treat painting outdoors as an essential part of your mental health regime. You won't regret it.
Make it a regular part of your routine. Treat yourself to a session of painting outdoors once a month (or more if you can)
If you find the idea of painting outdoors daunting and complicated, keep on trying. Find secluded places close to home to get you started, and before you know it you could be painting half way up a mountain and loving every moment.