5 things to consider when choosing a painting workshop
If your head spins when you think about which workshops to book, here are 5 things to consider which may help you with choosing a painting workshop.
These days there are so many art workshops available, it can be difficult to select the right one for you. While it's fun to go along to an art workshop with friends, you should make sure its the right one for you.
---
What is Your Goal in Choosing a Painting Workshop?
Consider what you would like to learn from this workshop. There's not much point in spending a day learning more of what you already know. You know what areas you want to develop in your art practice.
While these are often the aspects we avoid because we know they're not a strength, they're also the ones we should be working on. A painting workshop should stretch you. It should help you push boundaries. Have a goal in mind when you select a painting workshop.
What Medium do you want to use?
Many artists have a favourite medium, or perhaps a range of similar media. You may be primarily a watercolourist, or you may have a broader practice and be happy working in all water-based media, or in mixed media.
If so, consider whether you want to deepen your skill level in the medium you find comfortable, or whether you want to broaden out further and choose something different to try. Once you have mastered aspects of composition, tonal values and colour theory, changing medium becomes a matter of learning the technique of working with the specifics of the materials.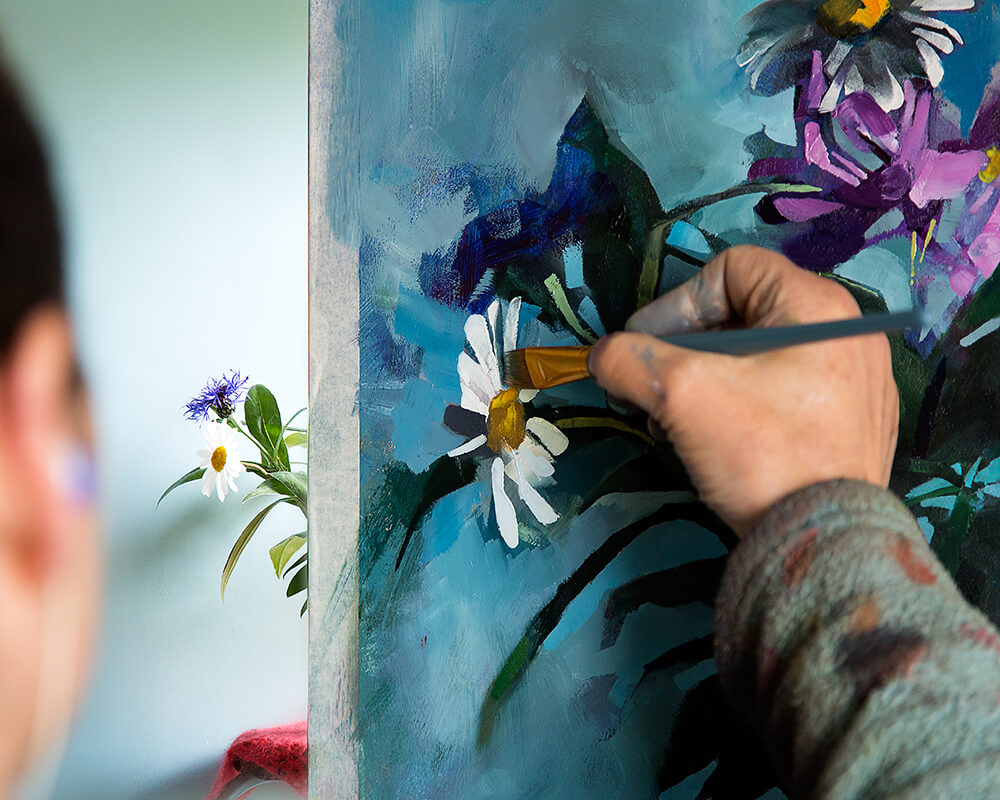 What Subjects Appeal to You?
There is not much point in attending a workshop that focuses entirely on a subject you can't relate to.
Are you a lover of wide-open natural landscapes? If so, cityscapes may not be for you. Do portraits inspire you to paint? Then you may not feel the urge to paint still life or abstracts.
Choosing a subject that gets you excited and wanting to pick up your brushes is a big part of the decision to undertake a workshop. You want to spend a day doing something you love – make sure you get the subject right.
What is your experience level? Choosing a Painting Workshop to Suit
If you choose a workshop that's way above your experience level, you may feel out of your depth. For some artists, this is just a way of challenging themselves and they will nevertheless learn from the experience and be spurred on to paint more and paint better. But for others, it could be so overwhelming that they feel demotivated.
Equally, if you are working with others whose level of experience is lower, you may feel frustrated by the slower pace.
Most workshop descriptions will say what level of experience the workshop is aimed at.  The tutor should know whether the material will be manageable for all levels of skill, or whether only a narrower group will cope and learn from the experience. If it isn't explicit in the workshop description, ask the workshop organiser to give you that information.
It's also worth asking about the format of the workshop? There is a range of workshop styles and some will suit you better than others. Some will provide a reference photograph along with step by step demonstration and guidance. And at the other end of the experience curve, those where the tutor is providing guidance and helping the student develop their own creative voice in their work.
The workshop cost may reflect the experience and approach of the tutoring artist. Although this is not a hard and fast rule, those who are able to provide more individual support tend to be a little more expensive. A workshop is an investment in your growth as an artist so provided you can commit to making the most of a workshop, paying a higher price may not be less cost-effective in the long run.
How much effort can you put into your chosen painting workshop?
They say you get rewards in proportion to the effort you invest. This was never more true than for a painting workshop. Ask yourself how much time you can dedicate to the workshop. Can you only manage a single day, or can you make the commitment to a 2- or 3-day immersion in your painting.
Beyond this, how much time can you put into continuing the development of what you've learned when you get home after the workshop.
Don't forget to factor in travel time
Travel and accommodation for workshops that take place more than an hour away from your home mean extra time and cost. If you really want to work with an artist who is not from your area, find out whether they are likely to be teaching in an area that's closer to you at any stage in the coming year. Top art tutors often release their workshop dates for the coming year, or for the next six months. But be aware that if they are at the top of their game, you may need to dive in quickly to get a place.
---
Most of all, your workshop choice should help you to grow as an artist, and bring you joy at the same time. If the thought of getting your paints out and heading off for the workshop you have chosen makes you want to leap out of your chair and get started – you've probably got it right. If not, perhaps it would be wise to keep on searching for the right painting workshop.
Keeping all of these five points in mind, take a look the art workshops in Cambridgeshire on our website. And beyond that, here a list of painting workshops in the UK