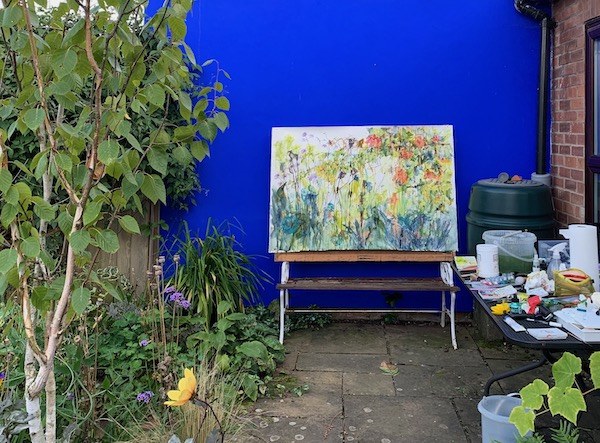 Painting Together
When can we start painting together again? Online workshops have been wonderful. There has been so much generosity from artists who have created free content that our lockdown period has certainly not been boring. But it has been a long haul.
It feels like so long since we were able to paint together. Online teaching and face-to-face workshops bring different advantages. We've all had a wonderful selection of online learning to choose from – now we need the in-person experiences. There is nothing quite like being with other artists for a workshop. The spontaneous conversations, the sharing of knowledge, and the tips about favourite resources – they all build extra knowledge.
Friendships are forged through art. A shared workshop experience sometimes sows the seeds of a new friendshipThese are all reasons I can't wait for in-person workshops to start up again.
Generally, I host workshops in a very well-fitted out hall. We held two workshops there in October. The memory of how those two lifted everyone's spirits has inspired me to find a way to get started on painting together as soon as possible.
From Monday 29th March we are allowed to have 6 people gatherings outdoors – including on private premises. It struck me that we don't have to wait another 6 weeks or more. We can get started now.
Painting together – new opportunities
I have set up three one-day workshops. I am limiting the number of bookings to a maximum of 4 attendees on each date. The workshops will be held in my courtyard garden outside my studio. I have two large tables, two gazebos in case the weather gets a bit damp, and bucketloads of enthusiasm. Attendees will get plenty of personal attention.
If you can't wait to dive into a real-world watercolour or mixed media workshop come and paint:
And if you want a slightly longer workshop and can wait until later in the year, Stephie Butler will be helping people master liquid charcoal and watercolour on the last weekend in May, and Aine Divine will be teaching landscapes in acrylics on the first weekend in September. There are still a few places left on these two workshops.
I am so excited that we will be painting together again soon.