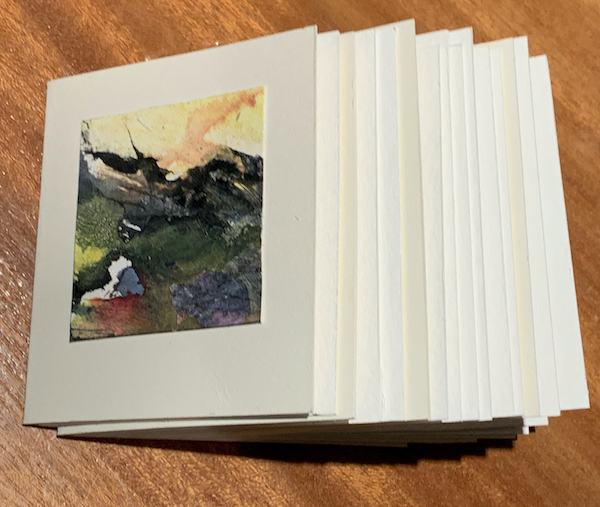 How we made Christmas art instead of Christmas cards
Christmas art instead of Christmas cards? Nothing about this year has been 'business as usual'. It's all be topsy turvy. So why not change things up when it comes to Christmas cards too?
I have a selection of gorgeous cards professionally printed from images of my paintings. They are all blank inside so that they can have any greeting inside – even Christmas greetings. In past years I have used printed Christmas cards, but 2020 is asking for something more personal and more meaningful from me. I really want to make my cards for this year different and memorable for every friend and neighbour.
Overall, this year has made me pay sharper attention to my way of operating in the world. I think more about how I can make a difference to the people around me. Environmentally, it feels right to make sure my studio and my art practice are as sustainable as possible. I draw so much of my inspiration from nature. My landscapes celebrate the beauty of wide open spaces. My flower paintings express the joy I feel when I see the blossoming of spring and summer in my garden. It would be incongruent for me to be wasteful in my studio.
This year, with the help of my sister, we will be sending cards that reflect the way this year has shaped us:
Each card is only 7cm square when folded [We want our environmental footprint to be as small as possible].
The images on the front are little mini paintings cut from sheets of my experimental practice sheets. Most of them came from a sheet of exuberant ink and watercolour combinations [I almost never throw a painting away – even failed paintings or work sheets can be cropped to create smaller paintings, used for collage or cut down to make personal cards]
Each card will slide into a handmade folded box containing a small edible offering of fruitcake to provide a taste treat to enjoy in the run up to Christmas [The increased sense of community through lockdown meant we got to know our neighbours better as we all supported each other and cared for those who are vulnerable]
At times I have felt a bit jaded about Christmas cards. We get so many that are written as an obligation in production-line style, that they often feel as if they lack warmth or empathy.
Let's stop sending Christmas cards out of a sense of social duty. Instead, create Christmas art and send it with genuine loving thoughts. Make something environmentally sound that doesn't add to our ever-growing level of consumption. Reduce waste and make something unique that will carry your message intrinsically caring to enhance the written message inside.
Of course, I would love people to buy my printed cards, and I will use them to send messages for birthdays and other events when I feel the image and the sentiment I want to convey work well together. But this time I wanted to do something different.
If you want to make your own personal Christmas greetings, you could cut and fold watercolour or heavy cartridge paper for the support. This will be your only option if you use a non-standard size. If you want to make life easier, and your creation process quicker, you could use some ready made card blanks from Khadi handmade and Fabriano
Whatever you choose to use for your Christmas messages: printed, digital or hand made, I'm sure it will be special and very personal.
Here's a little extra something from me: I am offering some of my paintings at 50% off in my Artfinder shop until 30th December. If you would prefer to purchase from my web shop on this site where there are some different paintings, I will apply the same discount on my original paintings. Just use the code Footprint2020 in the coupon box at checkout – also valid until 30th December.