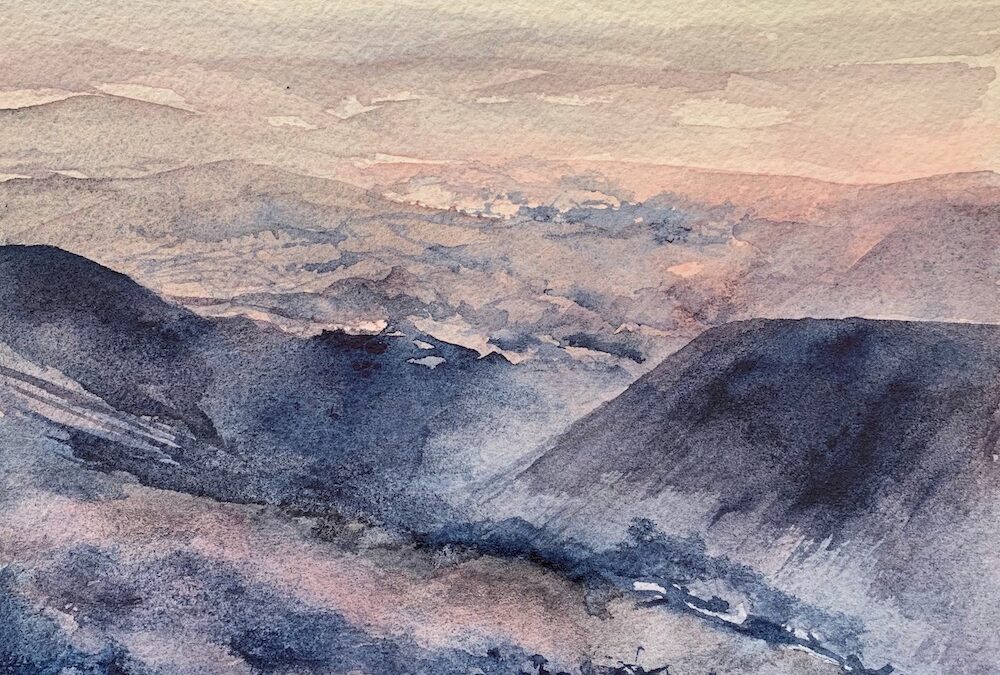 How limits improve your painting
It may seem contradictory to say that limits improve your painting. But in my experience, it is a good learning tactic that has worked for me.
Limits make you stretch in different ways. For obvious reasons, we call it thinking inside the box. With limits, you need to look for different strengths and you can't always rely on doing things in the way you have in the past.
My son got married last weekend. He and his wife are both innovators by nature. Having got engaged last May and then buying their first house together in September, they decided to hold their wedding now despite the limitations they knew would be imposed.  Instead of focussing on the constraints this would impose, they looked at how this would create opportunities:
Very small guest list meant they could make everything personal

They asked me to paint individual watercolours which were sent out as invitations. Each one had a personal hand-written note on the back.
Every name place holder was made in beautiful wood by my son. These are now collector's items for every guest. Not a single one was left behind on the table

No dancing allowed meant there was more time for conversations
Outdoor setting provided an opportunity to find a lakeside setting with individual cabins for all the guests so everyone could spend the night after the wedding
I love the way they thought about this wedding. It reminded me of the limits I have used to work on my painting skills in the past so I thought I would give you a few examples.
How limits improve your painting – a few ideas:
Set time limits to stop yourself from overworking a painting. For a small watercolour, I might set a limit of 15 – 20 minutes
Paint one subject multiple times. Here are sweet peas all painted on the same day, inspired by a little posy I picked from my garden

Use a single colour or range of one colour for a painting

Here's one in purple

… and one in a range of greens
Only allow yourself to use one tool. I challenged myself to paint a nectarine using only a ¾ inch flat brush to make the roundness of the subject more of a challenge. It taught me a lot about painting with flat brushes

Create very small paintings. Capturing an atmosphere on a small surface can be a real challenge. The 1000 painting Running With Brushes challenge taught me so much.
What other limits can you impose to improve your painting? Get creative and think inside the box for your list of limits and then set aside some time to play. If you keep it joyful, you'll make some fabulous messes but you will have a lot of fun and you'll soon see how limits improve your painting.
When you want to stretch yourself even more, consider taking a face-to-face painting workshop. There are many ways to develop your art and having a mix means you'll have plenty of inspiration and guidance.
Tags In