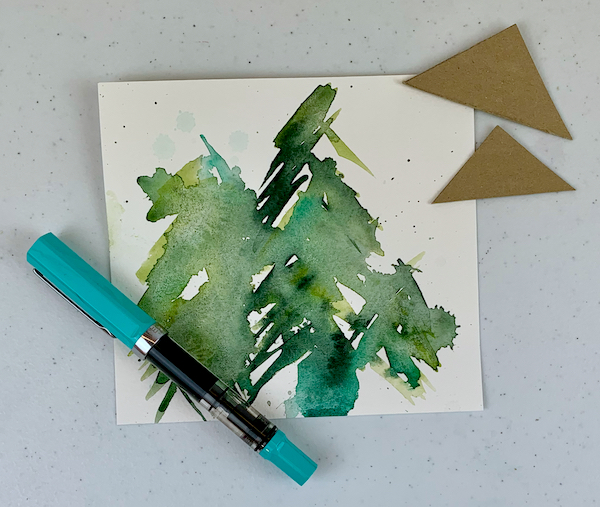 Watercolour Christmas Card designs

I love making handmade watercolour Christmas card designs in December. It is now many years since I bought a pack of printed cards. The ones I make are so much more personal.
The first few years I created them, I felt a bit self-conscious about sending them out. I was a little concerned they might not be good enough to stand up to the commercially printed ones. I am not organised enough to get some printed from a Christmas-themed painting. I'm always impressed by people who can work that far in advance. So I started making cards because I hadn't got around to getting any printed in time.
Now I do it by choice. I create three or four new designs each year. I find it relaxing and creatively satisfying to spend a couple of days in my studio designing, painting, and assembling the cards.
Here are a few Christmas card ideas for you
(Try making miniature cards. Here's a post with a few ideas.)
One advantage of making your own cards is that you can keep making them right up until Christmas Eve and create a stock to start you off next year if you're on a roll. Here are some ideas you may want to use for your cards:
This year I chose two styles:
Loose watercolour
Collage with strong, simple shapes
Two loose watercolour designs:


Either cut watercolour paper to a size large enough to fold into a full card, or paint smaller pieces and attach them to card blanks with double-sided tape. I particular like the square brown card blanks this year.
Paint a trio of loose chevron shapes with the end of a square brush using three different shades of one colour. I used green, but any colour would work. Add a few splatters to keep it loose. Make a series of triangle cut out cardboard templates in different sizes. Use a dark ink pen to draw thin triangle lines to add some structure to the tree shapes. You could do as I have and add extra lines for texture.
Paint a series of loose leafy shapes in approximately 60% of the arc of a wreath shape. Use two or three different colours and at least two brushes to provide different marks. Once these are dry, use a rigger to make dark stick-like marks. Then use the end of a Q-tip to make berry shapes in a red gouache or acrylic. I like to use paint that is brighter and less transparent for the berries to make them stand out.
---

Did you know I teach loose and experimental watercolour techniques online? 

If you want to know when I launch my next course, get your place on the wait list:
---
Two Watercolour Christmas Card designs:


Use PVA or double-sided tape to stick the shapes to card blanks.
Create a Christmas bauble design  by cutting different size circles of pre-painted paper or fabric and arranging them on a card base. Then use a fine black ink line to draw the string hanging from the top of the card.

Use the same

 

triangle card template as you used in the loose watercolour Christmas tree card to create this second Christmas tree design. Cut two triangles out of pre-painted watercolour paper. Position them with a gap in between them. Use the triangle template to draw a triangle shape in between them and a larger one below. Use lines or dots to create the texture of branches or the impression of baubles.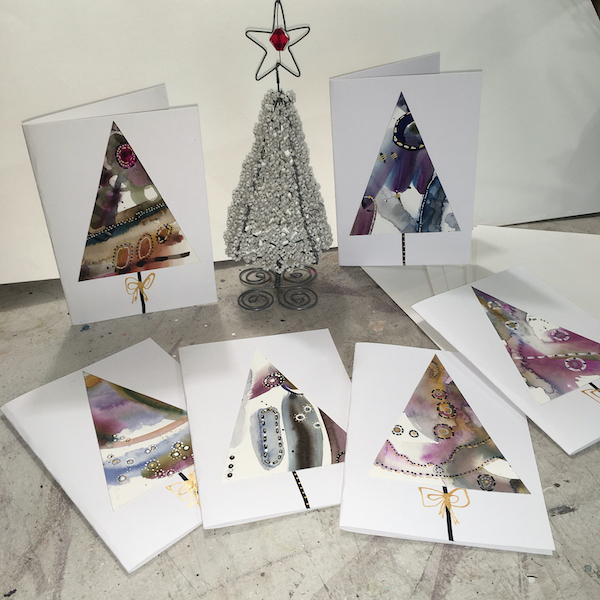 Here are some beautiful handmade cards made from watercolour designs by Razelle Troester.
If you create cards from these watercolour Christmas card designs or make some of your own, share them on Instagram, and tag me at @vandymasseystudio. I would love to share them in my stories.