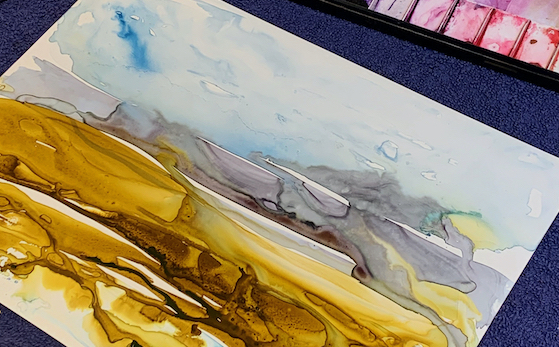 Watercolour texture on impermeable surfaces
In my last post I talked about a few items you could use for mark making to develop interesting watercolour texture. Watercolour texture can also differ significantly depending on the qualities of the support you use.

Another way to get unusual effects in watercolour is to paint onto a non-porous surface.
The key characteristic of watercolour paper is its ability to absorb water. One of the principles I use when I am experimenting is to look for something that has the opposite characteristics. In this case, what happens if the surface of the support isn't porous? A key technique in watercolour painting is painting wet in wet or wet on dry to control the movement of the paint. Pigment continues to move in water, and stops when it hits dry surface. A non-porous surface would keep the wet area moving for longer which changes the dynamic of the painting process.
Watercolour texture on Yupo
Yupo is a synthetic paper which feels like plastic and is water resistant.

You can use the paper immediately without having to prepare it for the paint.
For artists who like the paint to have a life of its own, yupo is a dream. Watercolour and inks run freely and keep moving for hours. This has the advantage of paintings being changeable.

You can wipe off the paint even when the paint has dried. This means you can adjust and repaint areas of the painting. It also means you need to be careful not to obliterate part of your painting by mistake.
However, there is some small degree of surface colouration, particularly with some of the high-staining colours, so if you're aiming to preserve whites, you will need to take care not to paint on that area. Masking fluid is almost impossible to use as removing it, even after the paint has dried will smear the paint.
Yupo is particularly prone to puddling which is how the distinct watercolour textures emerge. However, extreme patience is required for watercolour painting on yupo. Drying times are prolonged and using a hairdryer is not advisable until the last stages
Paint still runs freely for many hours and a hairdryer will simply blow your paint into unwanted areas. One other warning for artists wanting to paint on yupo.
The oils on your hands will coat the paper as you handle it. Fingerprints may appear as areas of resist on the paper unless your hands have been freshly washed.
Using Gesso to create a watercolour surface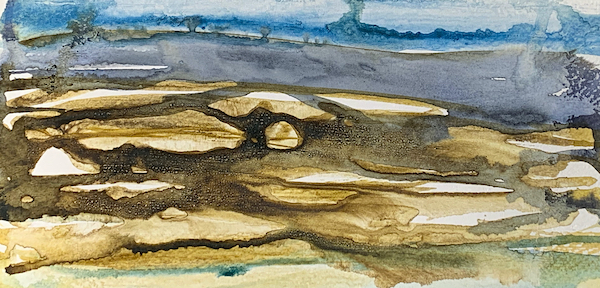 Gesso is an another option for creating an impermeable surface for watercolour painting. A Gesso-coating is water resistance, but not to the same degree as yupo. There are some advantages to using gesso:

You can use Gesso in smaller areas of your painting rather than over the entire area. This provides more options for the artist's creative expression to be fulfilled.
A single coat of gesso, roughly applied, will allow the brush strokes or other application marks to show through the paint. Whether you use brushes, roller, sponges or any other implement to apply the gesso, you can choose the texture you desire. I have even splattered gesso onto areas and left some of the bumpy bits to dry as they land.
If you want a surface that is close to yupo to work on, this can be achieved by applying two or three layers of gesso as smoothly as possible. Use a fine sandpaper in between each layer to get the surface you desire.
For watercolour painting, gesso can be applied to heavy cartridge paper, cheap watercolour paper (if you are applying it over the entire surface), or even mount board. I wouldn't cover an entire sheet of high quality watercolour paper with gesso. Frankly, it is a waste.
Changing the surface qualities of your support can provide so many options for creating different textures
(Note: Product links are affiliate links)